Is it still relevant to have a blog without having a true content strategy? Since our minds merge around these few lines, you may have guessed my answer. In the absence of suspense, let me ask you: is a blog the right choice for your content marketing? Potentially, for you, the answer is no …
Before starting a blog, ask yourself the right questions:
A blog, what for?
What to say on your blog?
Do you have the time and resources to write?
Is a blog always synonymous with WordPress?
Do you want to get results in the short term?
How do you plan to promote your blog?
A blog has its place in your editorial strategy if …
The blog is not YOUR ideal solution if …
 
Before starting a blog, ask yourself the right questions …
Let's take into account two important facts. For more than a decade, the blog has become the benchmark for injecting textual content on your site, especially for e-commerce. An almost acquired strategy for anyone interested in the subject of content marketing, or even simply in content production.
In 2021, there are approximately 500 million blogs worldwide
400 million are hosted on Tumblr, 60 million on WordPress. Every month, WordPress users publish around 70 million posts, enriched with 77 million comments. Imagine how tough the competition is! However, good news, 77% of users regularly read blogs of all genres.
So are we going or not? Grab your pen, we'll count the points to get to the bottom …
A blog to do what?
Starting a blog because your webmaster wants to put a small bonus on the bill is a questionable idea. Double or nothing! But it is certainly not a strategic approach. Like any good worker, it's best to diagnose the problem before grabbing the tool to fix it. My advice: start by making a list of your goals and then evaluate how well a blog would be a successful tool to achieve them.
In essence, blogging is still a means (and not an end!) To:
Develop your presence on the web
Generate traffic to your site
Share your expertise
Teach about your product / service
Create a space for discussion, with your clients, your partners, your community
Set a tone for your brand and share your lifestyle
Create a hook, to make yourself known on social networks
Obviously the list is not exhaustive, but this already allows you to take a first direction …
What to say on your blog?
Your goal in mind, project yourself in front of your completely white page. What do you want to write on your nice blog? What story do you want to build around your brand? What topics to cover? What do you want to transmit, share?
Here again, it is essential to ask the question. Because this is the backbone of your editorial strategy, which itself should reflect your goals. Like a thread that unwinds, you must ask yourself:
What to say: your editorial line
How to say it: your brandvoice, the tone to give your content
Who to tell: your Buyer Persona, who will become your target audience.
Where to say it: what medium, or at least, what format to use
If your goal is mainly SEO, then I highly recommend building a "semantic cohesion" thanks to a strategy based on SXO (Search Experience Optimization). If your desire is to share an "expertise" to make your business credible, you may need to put more emphasis on the relevance of the content than on the keywords. Are you still following me ?! 🤨
Do you have the time and resources to liven up a blog?
WordPress promises to create a blog in 5 minutes (no template customization!). But after ?! Keeping a blog and posting regularly is a long process. Many skills are mobilized, only in the editorial aspect.
Therefore, before deciding, ask yourself if you are capable of:
Define on your own an editorial strategy in emphasis with your objective
Find new topic ideas regularly, keeping your target keywords and your conversion funnel in mind.
Create an editorial calendar, and stick with it through thick and thin
Write quality articles, long enough to be impressive: 2000 words and 3.57 hours of work per article on average (source Orbit Media)
Publish on your blog, without forgetting to add an attractive visual and complete your SEO tags
Dedicate the same energy to the dissemination of your content, respecting the blessed 50/50 law.
If you are a business owner, even in the digital world, I don't have to guess that you already sweat a lot. The good news is that this list shouldn't be overwhelming, as there are several content agencies that can handle all of these tasks for you. Obviously, in return, like any content provider, you will have to dedicate a recurring budget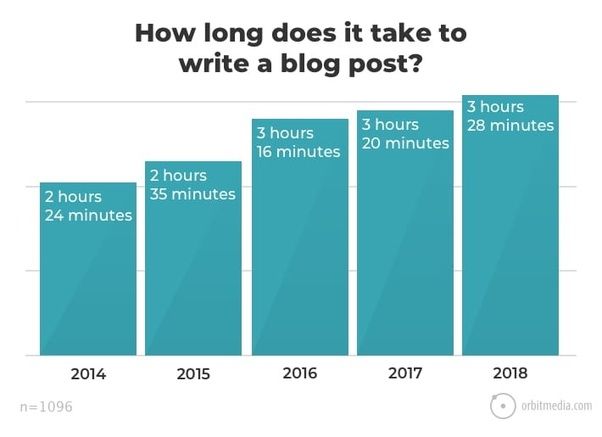 A quick count to enlighten you:
The definition of an editorial strategy, at least 20,000 MXN
Writing web content: between MXN 1.2 and MXN 6 per word, depending on the technicality to be contributed.
Images, from 5000 MXN / month for a quality image bank
Not to mention making an SEO strategy, maintaining your blog, managing your social networks and all the promotion …
Of course, you can also delegate all of this to your third-year intern or mother-in-law and use free image banks. I'm not judging, but I firmly believe that you reap what you sow. Mother-in-law!… 😂😂😂😂 Good luck with that…
Is a blog still synonymous with WordPress?
A market leader, WordPress is often offered as a natural alternative for a blog on your website. Of course, the solution has its advantages. Templates are available to infinity and beyond, and it gives you a first step towards custom branding. There are plugins to add or enhance almost all the basic functions. It is relatively easy and inexpensive to find a service provider to take care of installation and maintenance.
It is interesting, always in accordance with your objectives, with the common thread of our conversation, to explore other channels for the publication of your content.
Here 3 to get started:
LinkedIn: In a BtoB content marketing strategy, the social business platform makes sense to gain credibility around your experience. The interface is fluid, the algorithm quite favorable. On the other hand, you lose control of your content, published elsewhere … So you no longer capitalize on the content to feed your SEO and your reader will have to make an extra effort to discover your brand.
Medium: very technology-oriented, the platform is recognized for the quality of its content, but also of its readers. Depending on your market, posting directly to Medium can offer you a real gain in terms of visibility. Like LinkedIn, you move your content there, which is great if your blog's goal is to drive traffic to your brand.
Ghost: Halfway between WordPress and Medium, Ghost is a relatively new solution, but with a future. The interface is writing-oriented and is easily customizable. The essential plugins are already configured there, so everything is ready to go. And above all, Ghost has its own content distribution network. Therefore, you benefit from the advantages of SEO without giving up on making your expertise known. Or otherwise!
Do you want to achieve short-term results?
If the answer is yes, then the blog is not the tool to prioritize in your acquisition strategy. Other formats more focused on lead generation are certainly more suitable, like an Ebook, for example.
Implementing a content marketing strategy is a long-term job, whether the expected results are focused on SEO or expertise.
Beyond the efforts required to feed the blog, it is also necessary to integrate the digest time of search engines. On average, there are few tangible results before 3-6 months after the first batch.
But, I leave you 3 pieces of information to defend content marketing!
A lead acquired through content marketing costs 62% less, compared to traditional levers.
As soon as a blog has more than 50 articles, you can expect an increase in traffic of around 20% to 30%, which will be adjusted according to the target market.
Businesses with a blog receive 97% more backlinks and 3 times more inbound leads than those without a blog (Source Hubspot).
How do you plan to promote your blog or, at the very least, generate traffic to your articles?
Again, the question deserves reflection before publishing the first content on your blog. If you hope to write and that Google will do the rest, how can I tell you … Without wanting to demotivate you, it is very unlikely that your blog will not need a small boost to gain visibility.
We'll get back to this, but it's critical to pull out the full panoply to expect to see your content stand out. Again, to refine according to your objectives, but in broad lines, you can imagine promoting the content of your blog through:
Social networks: Instagram, Facebook, LinkedIn, TikTok, etc. Organically, if you already have a community, and invest in ads if you want to expand your audience …
The Netlinking: collecting specific and authoritative links will allow you to gain credibility with Google and your readers / prospects. Guest blogs are a solution to weave your website very well …
Emailing: more outbound, this lever is still a means to maintain a strong bond with your clients and prospects and spread your knowledge slowly but surely. Starting with a newsletter …
At this point in the game, I thank you for going this far. But I feel that the doubt is installed in you. I always have this effect, it will pass!
A Blog has its place in your editorial strategy if …
The time has come to decide on this crucial question: should we invest in a blog in 2021? If you check all of the boxes below, I have the honor to tell you that the answer is yes. You can contact us right now!
Your Blog is part of a content marketing strategy
Quantified objectives, segmented audiences, listed keywords, defined subject field, clear brand positioning … You move forward with a vision, an ambition. You know what to look for. I say bingo, launch your blog now!
You want to share, educate
You love your product, you are proud of your techno, you love sharing your skills. In short, you have a sense of customer service… and revealing your little secrets doesn't scare you. On the contrary, you are inexhaustible in your topics. Let's take the time to discuss, we have a sense of synthesis! …
Your site needs an SEO boost
Your site is very nice, your products are mega desirable, your prices are affordable… but nobody knows! A small SEO bonus will certainly be welcome to strengthen your acquisition strategy and generate more traffic to your site. Content is your friend, you can put a lot of keywords and intentions in it!
Your competitors are one step ahead
Because good ideas are always duplicated, it is very likely that you have competition. You can close your eyes and pray or you can analyze the strategy of your competitors, identify the flaws and take advantage of them by offering long-tail, pedagogical content, with a different tone, that sneaks into the gaps, neglected by your market.
You advance with rigor and method
You got it, a little post here and there won't be enough. You are ready to embark on a process of (co) building relevant, useful and qualitative content. There is a resource available internally to ensure follow-up and facilitate exchanges with your Content Marketing provider. Gooo!
You are aware of the marketing effort that must be made
To be effective and achieve your goals, you must invest time, money and resources. And above all, adopt the principle of giving in order to receive. Later… You are also ready to learn from your mistakes and begin a necessary phase of testing and learning, which requires knowing how to question yourself!
Your content is qualitative enough to dare to sign it
To enhance your EAT (Experience – Authority – Reliability), Google invites you to rate the author of your blog. Are you ready to communicate on your behalf, on your brand? Your content must necessarily live up to what is at stake
The Blog is not YOUR ideal solution if …
At the risk of throwing it all away, let's finish this long article on the factors of failure. Just to be ready! Also, if despite this long monologue you still have the following limiting thoughts, I think you'd better skip your turn. Other media seem more suitable for your project, or even your personality.
You make content to make content
There is no point in producing content to blacken pages. You need to find the right balance between meeting the objectives of your marketing strategy and meeting the needs of your Buyer Persona. Everything that comes out of this frame will have the opposite effect.
You don't want to invent anything, just duplicate
Brake corollary # 1, you don't want to reproduce what you think works. No risk, no brand universe, no reflection on the underlying message. You want to broadcast your little news and that's it! Too bad, you should bet more on evergreen content, which is much more sustainable and therefore profitable, and infuse it with your touch, the mood of your brand. That emotion that creates a genuine closeness between you and users.
Your content is not related to your conversion tunnel
A user views an average of 37 research pages before finalizing a transaction. I have to tell you how fundamental it is to go through the different stages that will lead to you, from vague questioning to purchase. Content has the magical power to answer all questions.
You don't have quality technical support
Blogging isn't just about posting content. This space should reflect your brand, your commitments, your values. As we do not leave an empty, meaningless showcase, your blog must not only look good, but also technically optimized. Starting with page load speed or mobile compatibility
You don't track your performance metrics
Last but not least, you have not defined the KPIs to measure the results obtained after so much effort. So you produce, produce, produce. But in the dark! To be effective, you must imperatively set 3 to 5 metrics, simple and tangible, that will guide you to adjust your content strategy to your objectives.
Home Run! Leave us a small comment to tell us if you have decided to launch your blog or not.