When Latin American cities began locking down in March 2020, it seemed like an existential crisis for MercadoLibre Inc., the region's dominant e-commerce platform. Sales slowed to a trickle—for about a week. Then they bounced back, and soon they were above where they'd been a year earlier.
MercadoLibre's e-commerce revenue grew 90% in 2020 as Covid accelerated the shift toward online shopping, according to Bloomberg Intelligence. The number of buyers on its marketplace grew 40%, to 65 million, in the 12 months ended on March 31. "We moved forward three to five years, depending on the country," says Marcos Galperin, the company's co-founder and chief executive officer. "There's no going back."
If MercadoLibre is changing the way Latin Americans shop, investors seem even more excited about how it's changing the way they pay. Payment volume at MercadoPago, the company's financial tech arm, increased 75% last year, to $50 billion, as merchants incorporated the ability to pay through smartphone apps or QR codes. The company also more than doubled the portfolio of its lending business. In 2018, Goldman Sachs Group Inc. estimated that 40% of MercadoLibre's value came from its financial-services arm; today it's 60%.
Even the company's backers don't argue that it has pioneered any particularly novel financial technology or service. "MercadoLibre's greatest virtue over the years was its ability to identify relevant trends early on, adapt them to local conditions, and, above all, implement them at the right time with precision, agility, and skill," wrote Dynamo, the prominent Brazilian asset management company, which has held company shares over the past five years, in a letter to clients dated in 2018.
Galperin, 49, whose family owns a major leather tannery and distributor in Argentina, was studying for a master's degree in business at Stanford in 1999 when he saw EBay thriving and decided he could make an auction website for the Latin American market. He named it, roughly, "Free Market" and facilitated his first sales that year. Everyone from the original team committed to finding 200 items to post; Galperin's contribution was a set of family golf clubs. EBay ended up investing in MercadoLibre in 2001 and held a stake until 2016.
In those early days, the platform worked like a classifieds site that connected buyers and sellers via email; some deals fell through amid fraud concerns and logistical woes. MercadoLibre started a financial-services arm in 2003. Again, the inspiration came from EBay, which had purchased PayPal the previous year to develop relationships with credit card and payment service companies.
Today many of the transactions MercadoLibre facilitates don't involve its own e-commerce business. From artisan fairs to beach coconut water sellers to taxicabs, it's increasingly common to see stickers that say "We take MercadoPago." Some small merchants say the commissions can be steep—but acknowledge that it's the price of keeping up with consumer preferences.
Lourenço Campos Leite, a 67-year-old locksmith in São Paulo, started accepting mobile payments two years ago, saying he feels safer handling less cash and adding that customers prefer mobile payments, because they make it easier to control spending. "Fewer and fewer customers like to carry cash," he says. Almost 80% of his clients now pay using MercadoLibre's card reader, and up to 10% use QR codes.
In a region where 50% of people don't have a bank account, MercadoLibre also saw an opportunity to expand its range of financial services. It now issues small loans both to merchants and consumers through a unit called MercadoCredito, which determines borrowers' creditworthiness from data it collects through its platform. The company doesn't fund itself with deposits, so it isn't planning to seek a bank license, Galperin says.
MercadoLibre also allows users to put the money in their digital wallets into low-risk mutual funds—an attractive option in countries such as Argentina, where annual inflation is almost 50%. These products are largely responsible for a huge spike in retail investment accounts. In Argentina, there were 400,000 retail investment accounts before the company started allowing investments through its wallet app. Since September 2018, MercadoLibre customers have used the app to open more than 3 million new retail investment accounts. The accounts are also available in Mexico and Brazil, with about 15.7 million accounts across the region holding an average of $50 to $100.
Irma Sgarz, an analyst at Goldman Sachs, sees financial services as MercadoLibre's most promising long-term business. The company's loan portfolio has margins of 25%, compared with overall margins of 3%, according to Sgarz. She expects the loan business alone to grow more than eightfold in the next five years, to a portfolio of $5 billion, up from $600 million in the last quarter. Over the same period, lending will make up half of MercadoLibre's financial-services revenue, up from 15% today, she says.
For now, retail remains MercadoLibre's biggest business. Its commerce arm accounts for about two-thirds of its overall revenue, a higher share than before the pandemic. In Brazil, MercadoLibre's bright yellow delivery trucks are ubiquitous in most major cities. They're carrying growing numbers of products to housebound customers, many of whom have already begun to use some of its financial products, too.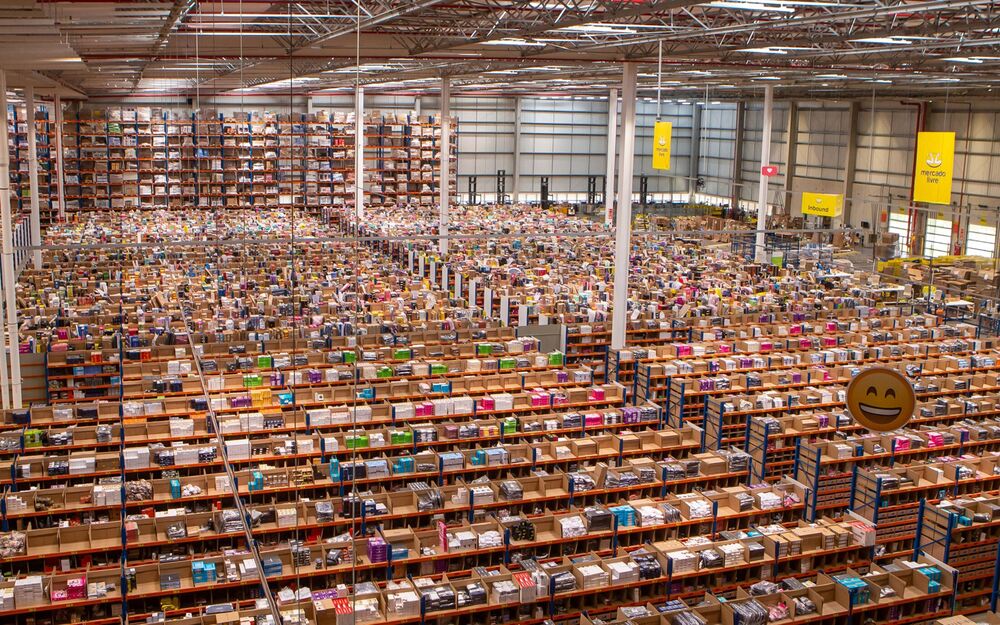 The company is doubling capacity in its two largest markets, creating an air cargo fleet, and considering getting into fresh food deliveries and incorporating livestream video demonstrations into its shopping platform. MercadoLibre has fared well against local competitors and even attempts by Amazon.com Inc. to move into the region. For now, Latin America's e-commerce market is growing so fast that it can seem as if everyone is winning, according to Sgarz. "One of the questions is whether rivals are taking market share or creating a new market that wasn't previously online," she says.
Still, some investors think the company will have a tough time maintaining momentum as the pandemic fades. Shares have dropped sharply since peaking in January. Galperin says his strategy is to plow money back into capturing market share, rather than exercising pricing power and increasing profits. To do so, he's doubling the company's direct workforce this year, to 30,000. "We believe that e-commerce and fintech is going to grow over the next decades, and it would be a mistake to optimize the P&L at this stage," he says.
For some people, Covid has led to an increasingly close association with the company. Before the virus hit, says Ricardo Ribeiro, a university professor in Maringa, a city in Brazil's southern state of Paraná, he placed less than one order a month; now he's up to about three times a week. Ribeiro's enthusiasm has been so noticeable that when he turned 56 in May, his family made him a birthday cake shaped like a MercadoLibre delivery box. "Buying online has turned into a habit since the pandemic started," he says. —With Erik Schatzker