In recent years the question about the Differences between ecommerce and marketplace among several of our clients. And although they may seem similar, there are no present and clear differences.
Many people usually refer to both are the same, and although they have similar concepts, both are e-commerce models with well-defined and different characteristics.
This year that we passed, Pandemic through, was a very different year, a year that was characterized by many changes in habits in our behavior. Remote work, fewer transfers, social isolation, online training, among others, and of course the digital transformation of companies and online shopping were not far behind.
Electronic commerce was one of the great drivers of the economy, commercial actions such as hot sale or cyber monday broke all their records, and many companies were "forced" to accelerate their plans to open their online sales channels. For many companies and consumers, online shopping was the only option available to continue operating and reach consumers who needed to be able to buy without leaving their home. And in this context of great growth, online stores and marketplaces became very relevant and were put into the portfolio for various industries and entrepreneurs.
Next we are going to review some of these concepts or functionalities that differentiate them
What is the difference between a traditional e-commerce and a market place?
The  most important Differences between ecommerce and marketplace, that jumps at first glance, is that an e – commerce store  is dedicated to selling products or services of a single brand or company , while a  Marketplace is a platform for various buyers and sellers to  market their products and make transactions through the same platform.
From the point of view of the end user, an analogy could be made between going to a local of a certain brand or going to a shopping center where we will find different stores and items grouped in the same physical place.
Differences between ecommerce and marketplace It is important to note that many of the companies that have their e-commerce stores also have an online presence in some of the most recognized marketplaces in the industry such as mercadolibre, ebay, amazon, among others. That is, they are not mutually exclusive activities.
Types of marketplaces
Within the marketplaces we can differentiate the big players that exist today in the market, such as those mentioned above: amazon, ebay, mercadolibre and others, but there are also other less known models. For example, banks that take advantage of their customer bases and set up their marketplaces to offer online sales to their customers. There are also regional or zonal marketplaces, where different companies and brands are grouped to offer a unified online sales channel for the inhabitants of a certain geographical area. There are also marketplaces by verticals or industries, for example designed for agriculture or clothing, to name a few examples differences between ecommerce and marketplace.
Greater competition
Another important difference is competition. In an own e-commerce store we can say that one competes almost against himself, defines his prices and margins. On the contrary, a marketplace offers a larger catalog of products and brands, the greater the competition between sellers and the greater the options for the consumer to spend their money on one or another product.
Investment and efforts in marketing and promotion
Bringing traffic to an e-commerce is not an easy task. Many believe that it only consists of building a good online store and voila, to sell! But no, bringing qualified traffic to a website is not easy or cheap, you have to work on SEO, make newsletters and paid campaigns on google and social networks to publicize the store and its products. Whereas if we think of a marketplace, more so if it is one that is already consolidated in the market, we start from a flow of visitors and registered users from which we can take advantage. Obviously this comparison is valid only if we are talking about marketplaces that are already consolidated or that have done their homework, since if it is a new marketplace,
Different audiences
Another aspect to mention is that the public to which we must target our marketing and advertising efforts are different. While in an e-commerce all our actions are focused on finding and training customers interested in buying our products, a marketplace should focus on looking for buyers and sellers alike, with specific campaigns and actions in each case.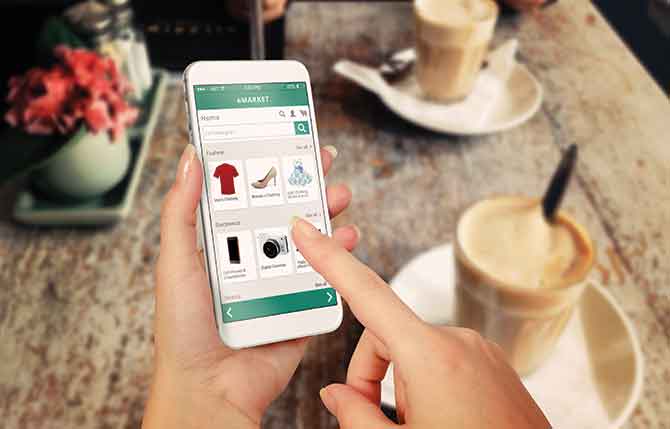 Brand Presence, Design and Personalization
In their own online store, brands define their online presence, in accordance with their brand manual, respecting colors and fonts, they have their own domain and can choose how to customize the user experience. While in a marketplace, there is little room for customization and you have to adapt to the designs and functionalities chosen by the platform.
Logistics and Inventory
The greater the inventory of a website, the more likely it is that the user will find what they are looking for, leaving it satisfied. In the case of an e-commerce, this means that you have to have many products and a significant stock, running the risk of not selling them or of having to get rid of them (for example, if it is food). In a Marketplace, on the other hand, the inventory is paid by the sellers,  reducing your risk to 0  if it is not sold.
Web development and available platforms
Among the Differences between ecommerce and marketplace, we cannot fail to consider the development of the online platform. When you are thinking about whether to open an online store or build a marketplace and add several suppliers, the efforts and complexities involved in these business models are quite different.
Nowadays there are countless e-commerce platforms between canned and open source available to develop an online business such as thiendanube, wix, shopify, magento, prestashop, woocommerce, vtex, squarespace and many others. But the number of platforms is reduced when we have to think about the necessary functionalities for a marketplace.
Differences between ecommerce and marketplace Beyond the selected platform, the complexity of the web development and necessary integrations are very different when it comes to integrating, for example, a single inventory, logistics and billing system when it comes to a single company or brand in a traditional e-commerce, that if we must do it with different companies and systems that each one has.
In summary, we share a comparative table with the differences between an e-commerce and a marketplace
| | |
| --- | --- |
| E-commerce | Marketplace |
| A single seller or company per e-commerce store | Many sellers or brands on the same e-commerce platform |
| Unique customer profile | Multiple customers, for the marketplace both sellers and buyers are customers |
| | Greater competition between brands and products of the same category |
| Simplified logistics single company from own warehouse | More complex logistics, multiple products from different warehouses or suppliers |
| Marketing and advertising designed to generate demand for the brand's products (sole seller) | Marketing and advertising thought both in the generation of supply (sellers) and demand (buyers) for multiple categories and types of clients |
| Design and personalized image care. Greater customization | More generic image according to the aesthetics of the marketplace. |
| Simpler generic e-commerce platforms to start operating an online store without so much complexity | More complex web platforms or custom developments, more expensive to develop and maintain. Greater complexities for integration with different systems (billing, stock, logistics, etc) |