Scrolling down Twitter is a lot of fun, and you can even find small clues between tweets from digital marketing influencers.
You don't need to spend so much time on this. That's the beauty of it. However, creating content that grabs attention is not easy. Your audience will see your tweet in their feed one day and they won't. It should be memorable and interesting.
Where digital marketers aren't? Digital marketing influencers everywhere, including Twitter, are sharing impressive ideas.
This article lists the best Twitter digital marketing influencers to make your feed more engaging than ever. Follow their 280-character tips and browse other resources they find helpful.
Digital marketing influencers to follow on Twitter
Hiten Shah / @hnshah
Joe Pulizzi / @JoePulizzi
Amy Porterfield / @amyporterfield
Sarah Evans / @prsarahevans
Greg Isenberg / @gregisenberg
Matt Navarra / @MattNavarra
Cyrus Shepard / @CyrusShepard
Ann Smarty / @seosmarty
Barry Adams / @badams
Weight Kao / @wes_kao
Talia Wolf / @TaliaGw
     Hiten Shah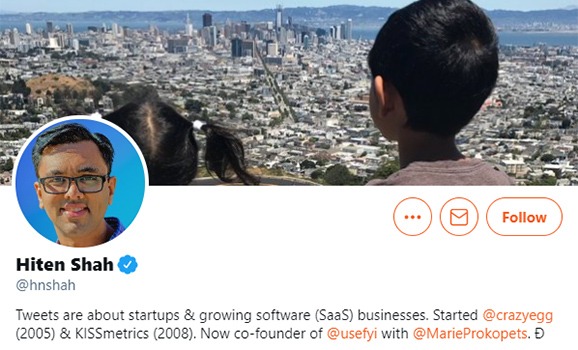 Hiten Shah tweets about startups and the growing software (SaaS) business. These businesses are growing and therefore they are really closely related to digital marketing activities.
What's more, the digital marketing community also follows up on new releases and hits for startups to develop the most exciting tools and products.
All of this makes him one of the most influential people on Twitter if you're in the business of digital marketing.
Joe Pulizzi
Joe Pulizzi is an entrepreneur, speaker, author and podcaster. If you want to dive deeper into content marketing, he's the influencer to follow on Twitter.
Amy Porterfield
Amy Porterfield helps entrepreneurs build online businesses. In addition, her areas of expertise include creating and expanding an email list, creating digital courses, promoting and selling courses online through webinars.
You can follow her for interesting digital marketing content in a variety of formats.
Sara Evans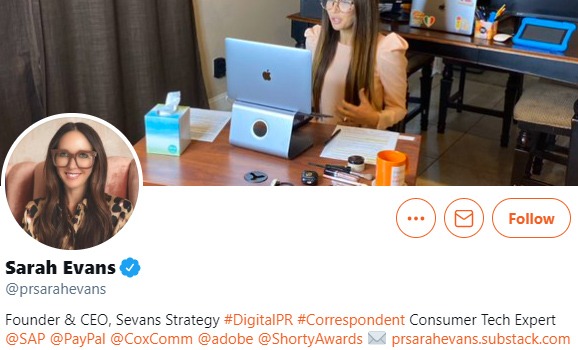 Sarah Evans works as a digital correspondent and consultant for global brands. In addition, she is a Digital Strategist and Global Brand Correspondent who works with companies around the world to create and improve their social and digital strategies, advising on branding, marketing, advertising and public relations.
Here's why you should follow her on Twitter as a digital marketing influencer:
She creates unique and original content for Twitter.
She is active and aware of digital trends.
You can find some tips from her tweets by scrolling down
Greg Isenberg
Follow Greg Eisenberg on Twitter to learn about community-focused companies With extensive experience in the tech business, he can show you how to grow a startup, and more
Matt Navarra
Matt Navarra is a social media consultant and industry commentator.
Over the years, social media has been one of the most important vehicles for digital marketing campaigns. Matt can help you as an informant about the social media industry on Twitter.
In addition, his other responsibilities included audience development, content distribution, branded content partnerships, stakeholder management for social media providers and platforms, training and development, and content optimization.
Cyrus Shepard
Cyrus Shepard writes and shares on SEO, Google Rank Factors, Higher Traffic / Conversions + 10X Content.
As an SEO professional, internet marketer, content publisher, speaker and writer, he has many years of experience. In addition, his experience allows him to generate high quality traffic through SEO and content marketing.
For valuable stats, reviews, or any SEO updates, just click the Follow button.
Ann Smarty
Ann Smarty is another Twitter SEO influencer who can also talk about her specialties below:
Online Reputation Management
Link building
Media Marketing
Follow her and be the one who sees what she discovers on the internet
Barry Adams
Barry Adams helps publishers increase search traffic through effective SEO.
As an award-winning search engine optimization consultant, he specializes in technical and editorial search engine optimization for news publishers around the world.
In addition, he enjoys sharing his SEO knowledge and expertise with industry representatives on Twitter, as well as in some lectures and digital conferences.
Cao weight
Wes Kao tweets about marketing, rigorous thinking and education. In addition, she shares some how-to posts and tips for digital marketing.
Talia Wolf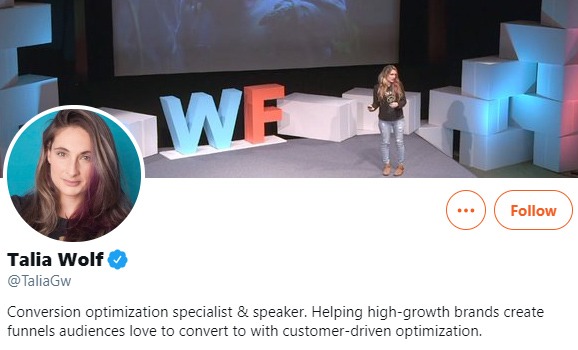 Talia Wolf is a conversion optimization specialist and speaker. What's more, it helps fast-growing brands create funnels that audiences love to navigate through with customer-centric optimization.
Digital marketing and its components; Thalia knows everything. From emotional targeting, persuasion, messaging, landing page optimization, mobile optimization, customer service to optimization and analytics, it matters.
Digital Marketing & Twitter – Topic & Influencer Tracking

Did you know that Twitter has 330 million monthly active users? This is a chance to reach out to those who might also be interested in your products and services.
Everyone knows that social media is and will be the perfect vehicle for brands to send the right message to their users for a while.
In addition to being a powerful social media tool, it also allows you to find the latest information on any topic, updates and businesses that interest you. All of these positive results mean that you should also develop a Twitter marketing strategy.
Twitter digital marketing influencers also make it easy to get to know the latest industry blog posts. They share tips and tricks, sometimes helping you understand the pros and cons of some of the new discoveries in the industry.
By following these Twitter digital marketing influencers, you can learn about digital marketing, growth, entrepreneurship, startups, and more about the digital landscape.